Find out if RevoLock® adjustability can help you with your suspension challenges.
RevoLock® Adjustable Solutions
How They Work
Your prosthetist builds RevoLock into your new socket, or it can be used to replace your current pin lock system. RevoLock is not a socket, it is a kit. It makes it easy to don and doff your device, and keep proper suspension all day.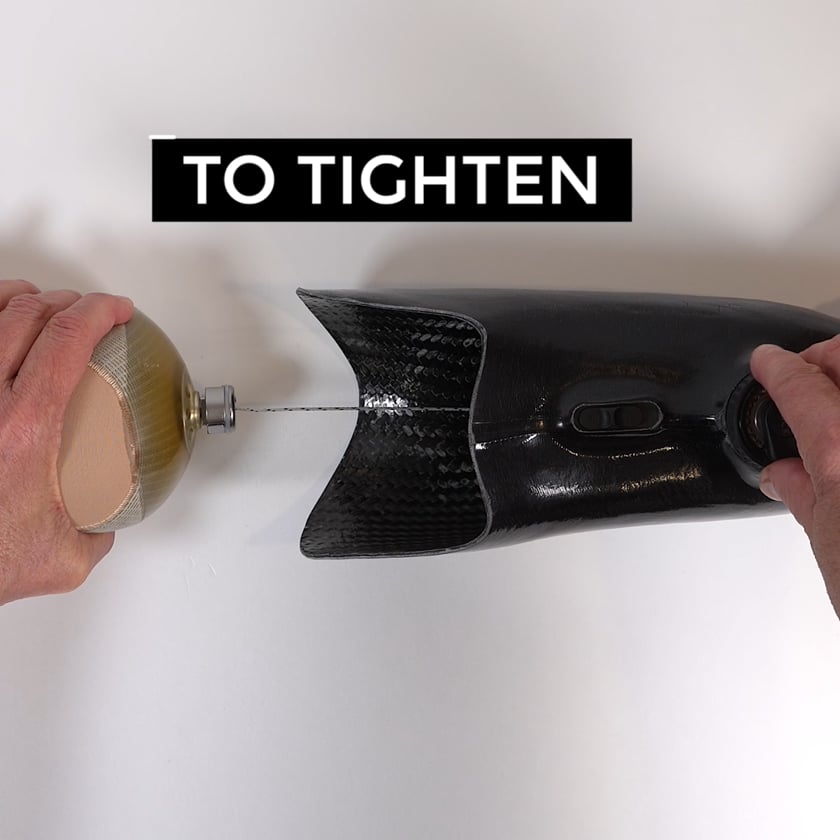 RevoLock®
with the Click Dial
RevoLock gently draws your limb into safe and secure position with a twist of dial.
Snap into your liner and turn the dial to gently pull your limb into your socket. (Goodbye skin shear.)
Adjust your suspension by turning the dial. (No need to don and doff.)
Turn the dial to release your liner, then press the quick-connect snap to disconnect.
Ask your provider to address your fit suspension needs.
Speak with one of our Adjustability Mentors.
It helps to talk to someone who has been there.
Sydney Mashburn
AK RevoFit® user since 2021
Lou Figueroa
Bi-lateral RevoFit® user since 2015
Whether you are new to limb loss or just learning about Click Medical's adjustable technology, we invite you to connect with our Adjustability Mentors. Everyone's journey is different and having a seasoned amputee to talk to is very helpful.
Do you struggle with hand strength or dexterity issues?
These Grips can be easily added on to the Click Dial
Provides a soft-touch feel and 10% increased turning power. Great if you struggle with dexterity.
Provides a soft-touch feel and 20% increased turning power. Great if you struggle with dexterity and hand strength.
The Comfort and Power Grips are not included with Click Medical Kits. They can be added on by your provider. Find a provider.
Want to know about the secret behind the Click Medical Kits?
RevoLock is best suited for those who struggle with their current suspension system, have limited range of motion, limited strength, bulbous limbs, or significant volume fluctuation. Amputees who change in activity level throughout the day tend to appreciate the ability to release tension while seated or to tighten their suspension when active. We have also seen great benefits for amputees who struggle with balance when donning their socket or who have limited range of motion as RevoLock makes it easier to put on and keep on your socket.
RevoLock may not be appropriate for amputees with numbness in their limb. If you have numbness in your limb, ask your prosthetist to assess whether your limb is appropriate for this solution.
Click Medical Kits are sold to Orthotists and Prosthetists to integrate into your device. If you are interested in RevoLock, you can take our quiz to see if it's right for you and then ask your practitioner about adding it to your next device.
Each insurance company is different, so be sure to check with your provider when being fitted for a new device. Your provider can help determine this answer when they submit for pre-approval of your device.
The RevoLock Kit comes with 2 Quick Connect Inserts for use on 2 liners. You can purchase additional Quick Connect Inserts if you need.
The lace is designed to last a minimum of 6 months. However, laces can easily be replaced by your practitioner if needed.
Release the Slider Lock mechanism (no red dot visible) then turn the dial backward to loosen the tension on the lace. Continue to turn the dial until the clicking sound stops and then slowly pull your leg out of the device.
Click Here for instructions for use and maintenance of your Click dial.